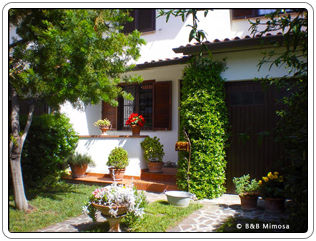 The B&B Mimosa is located approximately 6 km from Pisa in a small historic centre. 'Mimosa' is a lovely guest house characterized by suggestive terracotta paving and traditional Tuscan furniture. Touches of internationality echo the owner's travels around the world.
B&B Mimosa is the ideal guesthouse for those who seek to combine a holiday with Arts, the beach, Mountains and countryside. Situated just about 1 km from the entrance of the Fi-Pi-Li highway, the B&B enables the guests to visit many beautiful towns and cities famous for their artistic patrimony while enjoying beautiful Tuscan landscapes and tasting excellent wines and tasty dishes.
The Bed and Breakfast is also perfect for those traveling for business. It offers a familiar service while providing a professional service.
The B&B Mimosa provides three bedrooms. The double room 'Mansarda' is characterized by a vaulted ceiling in wood and a big fireplace. Guests can enjoy the TV, DVD player to listen music. It provides a balcony, fridge and tuscany table. A wide range of Cds are available at the reception and can used for free. 'Mansarda' is ideal for those who seek romantic Holidays. Furthermore, the lovely Tuscan style helped to give the bedroom a very intimate atmosphere.
The other two bedrooms, the single room 'London' and the double room 'Paris', add an international feeling to the guesthouse. Both rooms are decorated according to the name they bear.